Urban Chickens
Meredyth Cowling
October, 2009, pp25-26 Original
In the last several years, growing numbers of people in cities and towns across Canada and the U.S. (including Niagara) have quietly and sometimes covertly, returned to a practice that was common until the end of the Second World War: that of keeping a few chickens in the backyard. Numerous cities already allow this but in places without a chicken-friendly bylaw, grassroots campaigns, inspired by the expanding "eat local" movement, are encouraging municipalities to reconsider their position and allow a limited number of hens. Although there are no firm statistics on the number of "urban chickens" in 2009, they're becoming so popular that Backyard Poultry Magazine, which ceased publication back in the 1980s, was relaunchd a few years ago.
In Niagara, only the City of Niagara Falls allows chickens in areas other than those specifically zoned for agriculture. The city's animal control bylaw, updated in July 2005, allows residents to keep up to 10 hens as long as the property is a minimum 40 feet wide by 100 feet deep with a single-detached dwelling. The coop or chicken house must be at least 25 feet from the rear boundary and 15 feet from the side. They must be properly cared for, they cannot run at large and roosters are prohibited.
"We've had no problems and this bylaw seems to be serving the community very well," says Bill Matson, manager of clerks for the City of Niagara Falls. Another official notes that although the city does receive a handful of complaints a year about chickens, almost all have to do with the presence of roosters (prohibited under the bylaw) or for the coops not being the required number of feet from the property line.
While it's not known how many Niagara Falls residents keep chickens, the idea of keeping backyard chickens is gaining popularity. For some it's a commitment to local food security and to minimize the environmental costs of the food we eat. Others appreciate knowing that their food is produced in a way that is a healthy and humane as possible. The goal for others is simply the deep yellow yolks, tender whites and garden fresh flavour of the eggs – a taste all but forgotten in the standard factory farmed egg of today and still there are those who simply enjoy raising chickens.
"You start vegetable gardening, and pretty soon you're thinking about how you can stimulate growth without chemical fertilizers, and before you know it, you're researching chickens, manure composting and chicken-coop building plans," says one Niagara Falls resident. "I've had my chickens almost a year now. Originally I got them for the eggs and for the natural, nitrogen-rich manure to apply to my vegetable garden, but I've discovered that they are amusing, lovable pets as well."
Given the emphasis on sustainability and the current economic conditions, it's no wonder backyard chickens are gaining popularity. Rose and Ken Bartel, of the thriving Bartel Organics on Lakeshore Road, in Niagara-on-the-Lake, have joined the ranks of supporters and recently built a fine chicken coop amidst their lovely gardens.
"We had chickens years ago and really just enjoy having them around," explains Rose
"They complete the picture of what we're doing out here. We have 20 Red sex-link hens this time, a small variety, just for laying eggs. It's a partnership. We receive the delicious eggs and natural fertilizer for the garden and in return we give them a good life."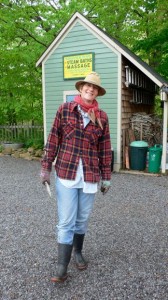 Another happy group of Niagara chickens has a dwelling that could grace the front of Architectural Digest, Jodie Godwin's small flock on Lakeshore Road has a chicken house many would envy. Designed by architect husband David Parker, she is often kidded by friends and neighbours as having the "gold plated chicken coop."
"I grew up in Calgary, in the city, removed from this sort of experience. This is not about cheaper eggs; it is about living closer to our food sources and as a family, being part of the process, gaining understanding and respect for what goes into providing our food. We have developed a community of friends and neighbours who share our delight in this project. They stop by to visit, often with their children, sharing 'putting the chickens to bed', enjoying the process as much as we do. Raising chickens is so rewarding for us, the eggs have become just the bonus. When these chickens are finished laying eggs, we have discussed that they will be food. I don't know how that will turn out yet. If we just had one or two they would remains pets but with 16 chickens that is not possible and I feel I need to be able to see it through. It's part of using our resources wisely."
Godwin says they're not pretending to be farmers nor do they have any illusions about being equipped to live off the land, but they are reaping the huge rewards of being closer to the land, connected to it, appreciating their ability to produce their own food. "We think about the coming of peak oil and peak water and what the future may be like in 25 or 30 years. Society is changing and this experience, this knowledge, is important, especially for our children. You know, 10 years ago, if you had asked me what I hoped my children would do in the future, the answer would have included university and professional careers of some kind. While I would still support this, I find I would be pleased and proud if one of them chose a career in farming."
Growing numbers of people, in cities and towns from Vancouver to New York, from Los Angeles to Toronto, in hundreds of cities and towns along the way and right here in Niagara, are making conscious decisions about how they live, like planting a garden and keeping a few chickens in the backyard. Certainly they seek food safety and security and support the evolution of the local food movement, but something deeper seems to be at work here, a desire for independence, for the satisfaction of self reliance, for relearning and recovering wisdom about the natural world that we left somewhere along the way… and for passing the hope and contentment that comes with it on to our children.
NOTE: Most hens lay eggs from about six or seven months of age and continue until they are four or five years old though they can live for several years longer. They are friendly creatures with unique personalities, many different breeds with their own characteristics, producing eggs in a wonderful range of colours, providing insect control and rich manure. For your daily commitment, they will provide a tremendous amount of enjoyment and satisfaction and open a new window into the world of nature and your part in it, for you and your family. There are a startling number of articles and websites on every topic relating to keeping backyard chickens, from 'Getting Started' to 'Heirloom Varieties,' to organizations and products (www.backyardchickens.com; www.omlet.us; www.citychickens.com) If you're tempted to consider chickens for yourself, first check out your local rules and bylaws.


Bushy House is proud to be a part of the Fresh Start Initiative, supporting local farmers; the Niagara Culinary Trail: Bridging Niagara's farm to table culinary experience and the Niagara Local Food Coop.
Niagara-on-the-Lake, Ontario Phone/fax: 905.468.0528