Some Great Things About Niagara
Here's a running list of things you might do when you're visiting the Niagara peninsula.  Just a thought (or two).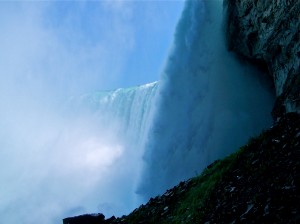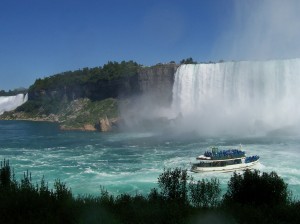 Niagara Falls (of course).  It is built up with tourist facilities to the max, so there's a lot of options for you.  Some like the casino, or the shopping, or even the carnival atmosphere of Clifton Hill.  Lots of restaurants and amusements to be had!
The main draw is the water.  Those big amazing waterfalls inspire such awe.  I never cease to be amazed (and just a little mesmerized) when I see their power ; all that water plummeting down those incredible rock faces.  Wow, and wow again!  Stroll along the rocky and wrought iron wall that gives you a great view of both the American and Canadian/Horseshoe Falls – there is always a UN of cultures and languages about, everyone marvelling and taking snapshots of each other with the Falls in the background.  Make sure you watch out for the rainbow …
There are other ways to take it in – Journey Behind the Falls, Helicopter Tours, and the Maid of the Mist .  I highly recommend going on the Maid of the Mist – there is a tried and true history to seeing the Falls this way, and yet it is as fresh today as anything going. It is a great and inexpensive way to get a sense of the awesome power of these cataracts.  Go a little further and there's the massive encircling wall of the Horseshoe Falls. Wow!  And wet.  Very wet!  (Good thing they equip you with those plastic ponchos.)  Besides, it is just plain fun to get on a boat and, well, do something like that.
Parking for it all is to be best found by driving along the parkway and going beyond the lip of the Canadian Falls.  There are a series of entrances on your right that gradually fill up, and when it gets beyond the closest lot, frequent busing back and forth to the Falls is available from those lots.  Much better than trying to find a parking meter up the hill on city streets, unless you are taking in those places.
At night, the Falls are lit up in a colourful display – well worth seeing. (and cooler on those hot summer days)
For other attractions like Journey Behind the Falls, the Butterfly Conservatory, the Whirlpool Aero Car, the Botanical Gardens, and more:
You'll have some fun!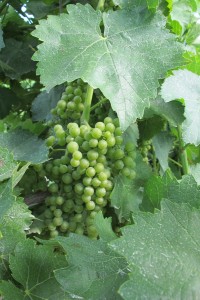 The Wineries.  There a lot of great opportunities to sample and enjoy the fruit of the grape.  This industry has grown immensely in recent years.  There are wineries both large and small that abound!  Award-winning wines, discovering new finds, and meeting the people who make it happen make for a pleasant way to spend some days on the Peninsula.  You can drive from winery to winery, following your own route – may I suggest picking up the makings for a picnic lunch along the way?   The Epicurean and Rest to Go Go in NOTL, or the Pie Plate in Virgil are all good restaurants that can provide such delights.  There are several Winery Tour companies that will do the driving and give you the inside track on the industry, and others that will accompany you with rental bikes.  Very fun!  Purchases along the way are well taken care of, so tasting benefits can go well beyond your Niagara days.
We have several wineries right around us, and nothing is very far away here in Niagara-on-the-Lake.  Plus, we provide corkscrews in the rooms.
The Shaw Festival.  Theatre in the heart of wine country Niagara.  Now, that's pretty good!  It started in 1962 (Hey … that's the year that I was born), and has gained a wide reputation for excellent performances.  We have many guests who come and stay for two or three nights, take in some plays, eat good food, maybe visit some wineries – and enjoy the spoils and conversation afterwards out on the deck at Bushy House.  Makes for a veritable feast!
I'm including a link that will give you all the information you need for upcoming plays.  Break a leg.
Bicycling and Kayaking.  This is a great way to get out there!  And we are in the midst of it.  Bike paths that wind along the river, on rural roads amidst farms and wineries and orchards – all make for some rather pleasant days on the Peninsula.  You can bring your own, or rent them right here in NOTL.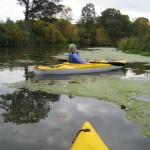 There are several places to put a kayak in, not far from Bushy.  You can paddle along the shores of Lake Ontario – we are just across the road from Niagara Shores Park – or up some of the mile creeks that feed into it, or even the along the banks of Niagara River as it flows more gently into Lake Ontario.  Slowing down; sometimes you see that much more. For kayak rentals:
Bicycling is very popular, whether you like to push your body to the limit, or simply meander along at a more leisurely pace.  There is a dedicated paved path that runs up the river towards Queenston and the Falls, perfect for those who want to take in the views.  (Remember:  it's on a slight downhill slope on your way home to Bushy – yeah!)  I would recommend the rural roads for those who really want to go for it; seriously.  You can go it alone or you can join a bike tour.  These are a lot of fun, and your guides are really glad to show off Niagara, and get out there themselves.  Kindred spirits!   You (or they) can even arrange a picnic along the way … tempting?  For bike rentals & tours, I would highly recommend:
Or perhaps you are looking for a different take on it.  What about renting an electric scooter?  These are relatively new to our area, and they are becoming a very popular way to get about town and beyond.  Some initial instruction is offered, and then you are equipped with all you need to get out there, with considerably less sweat equity.  Check them out at: