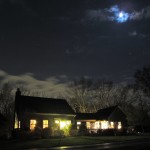 More Recently
2015
I arrived with my husband who never wanted to stay in a B&B prior to this. His experience was so wonderful he is determined to return. The perfect balance of hospitality + privacy. Personally, I felt like a dear friend was having me as a guest – and the care in the breakfasts, both quality + presentation were unbeatable. I hope to returning the near future to relive this wonderful experience.  Mimi + Jim
A great way to end our theatre vacation. Returning to Bushy House – our favourite spot. Wonderful breakfast – a feast for royalty. That's how you make us feel. Hope to come again next year!  Jim + Sue
We had a lovely stay – your home and gardens are so beautiful … We loved the comfortable room and bed – and the breakfast was par excellence! Best scones ever!  Debbie + Jim
—————————————————————————————————————————————————————————————–
2014
Thank you for opening your home & sharing your hospitality for our girls' night.  The room was perfect & your spring flowers brightened our day.  Blessings to you.  Yliza + Lee Anne
2013
Thank you very much.  We have really enjoyed our stay with you.  The ambience, the setting, the decor, the morning delights, makes this B+B the No. 1 par excellence.  You really have a fantastic place, and this reflects you and your dedication to excellence.  Laurence + Lyse
Jodie and family – What a wonderful, restorative retreat here at Bushy House!  As always, the small details of hospitality and the magnificent breakfasts did the trick.  Thank you so much for our lovely stay!  See you again in 2014!  Ruth + Jerry
2012
Thank you Jodie, David & 'Jamaica' for sharing Bushy House and your wonderful hospitality with us.  This was, by far, our best – and most delicious – B&B experience!  Brad + Rebecca
Fabulous!  Fabulous!  Everything fabulous!  Many thanks.  Shirley + Suzanne
What a wonderful happenstance!  You were recommended by the folks @ Bayberry as they had no room and we couldn't have been happier as it turned out.  Beautiful surroundings, extremely comfortable room and breakfast accommodations for our gluten intolerances were above our expectations.  Lovely hosts!  Thank you so much for making our brief sojourn so special.  Christy + Priscilla
Brilliant as always.  Thank you for your loving hospitality and amazing breakfasts.  It is always a delight.  Much love, Andrea + Drew
2011
Thank you for a wonderful first B+B experience.  All the little details made our anniversary memorable.  Carolyn + Steve    PS. Breakfast was amazing!
I couldn't have chosen a lovelier place to stay with my girls.  All the comforts of home, PLUS the most incredible breakfasts I have ever had.  It was a highlight of our days here.  Such a lovely home, lovely hosts, thank you.  My mom's 80th birthday was a great event.  Linda
Dear Jodie (and all others who make this incredible B+B run) – thank you for such a lovely, lovely stay.   I came here weary and ready for a 36 hour break.  We could not have chosen a more restful, enchanting place.  We made a game of trying to think of anything you have forgotten. 0 for 0!  What a fabulous breakfast.  Spoiled for life.  We will be back.  Thank you.  Ruth + Jerry                                                                             Jodie, the definition of hospitality!  Thanks so much for your energy and attention to detail.  Jerry
Judy has been telling us that this is just the best B&B she has ever visited.  It has taken us 2 years to visit, and Judy was so right.  The whole experience was wonderful & relaxing.  Your breakfasts are amazing.  John & I thank you for a wonderful time.  Brenda + John
2010
Another wonderful stay.  The room was perfect, the breakfast even more so.    Perry  + Alice
Don and I have travelled a lot and stayed in many B&B's BUT Bushy House is the best.  It's because of the beauty, peace, and personal touches you provide.  Thanks again for your friendship.  Shari-Lou + Don
Dear David, Jodie, Leah & Sam – Thanks so much once again for a memorable stay – #9 is a charm!  Debbie, Mike + Gage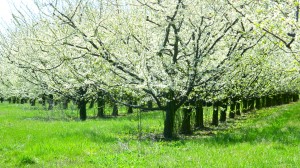 Our History (From the Beginning)
—————————————————————————————————————————————————————————————–
Having been in business for over 15 years, we are pleased to welcome return visitors again and again. Here are some of the comments provided by our guests during the first ten.  Memory lane, really.
---

1999
Thank you so much for a wonderful stay. By FAR the nicest B&B we have ever stayed at. The room was beautiful and the private breakfast on the patio was delightful. We will return!! Jackie + Greg
---
Such a pleasant surprise for a booking made at short notice – someplace we had never heard about! But we're sure word will spread fast. You've done a fine job in thinking of all the things that make a truly rewarding place to stay – thank you! Brian + Mary Ellen
---
When, not if, we come back to NOTL, Avery is certain to insist on Bushy House. And we won't mind at all. You have installed many extras that make staying here just that much more relaxing and easy. I think this is my 6th B&B in NOTL and yours is clearly the one I'd want to return to. Don't change a thing! Dan + Ginny + Avery
---
I think we've been very spoiled. This has been our first stay at a B&B (you realize this will be a standard against which all others will be rated). Thank you for making our short honeymoon so wonderful. We wouldn't want it any other way. Jackie + Steve
---
So like we're out on the net looking for a place to stay, a B and B place and like there's millions of them down here and we're wondering which one and thinking we'll never figure this one out so we phone this Chamber of Commerce outfit and they say the name of this place and we think OK so we'll try it and we get here and there's like this woman sawing on some pressure-treated lumber making a stair railing, and we're thinking so like OK I guess that is what you do when you're a like B and B person (and she's wearing this t-shirt that done its time in a big way its so worn out there's like a million holes in it). But then she shows us the room which is like perfect and has a king-sized bed (quite the novelty, sleeping on that much real estate) and then next day there's like this breakfast with for sure not your basic muffin & cereal it is soooo good and I'm thinking this is sooo good except I'm maybe a little uncomfortable because I make Carol breakfast in bed of a weekend and right now I'm being smoked by two people obviously on the Pro-Am B and B circuit… like breakfast like I'm never going to make in a million years but I'm thinking "Be cool… maybe they'll…" but they don't and the next day is even better and the backyard so then I think "okay…" and gracefully just ask for the recipes (as gracefully as I am capable of at least) and now I'm sitting here writing this and we have had a magnificent time… and we want to come back again in a big way !!! David + Carol NOTE: he wrote this in the manner of his high school students – it always makes me laugh! By the way, I threw the t-shirt out afterwards.
---
2000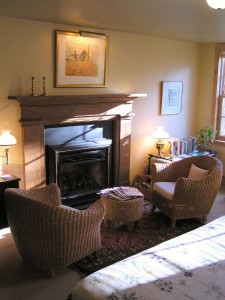 We fell in love with this warm and soul-filled place the second we saw it , and will warmly recommend it to friends. You have made us feel home but away during our stay. Ann, from Sweden
---
We have been around and we admit you rank amongst the tops!! I might be mistaken but things look so easy when you enjoy what you are doing … Our good words will spread the news and be assured that this is OUR spot next time we drop by in the area. Benoit
---
Jodie this has been a highlight of our holiday. A superb location combined with your personal attention, gives a wonderful atmosphere. Many thanks, Gordon + Allison
---
This was a great weekend, made all the more pleasurable by your warmth and hospitality. We felt really comfortable and relaxed. We were impressed by this place on the B&B house tour last year, but staying here was even better. I think my sister-in-law has just found her new most favourite B&B in NOTL, and since she and my brother have been coming here for over 20 years, that's really saying something… PS the food was damn good too, especially the granola sundae. Mmm! Nancy + Frank
---
2001
Jodie – we don't want to go home. Your breakfasts have been beautiful and delicious. The room is so warm and inviting and you and David are such gracious hosts. It's so nice to be a "guest" and not just another room number. Thank you for making our stay in Niagara-on-the-Lake such a wonderful experience. Jan + Pat
---
To Bushy House – long may it flourish. Jodie, David, Leah and ?, your thoughtfulness, warmth and taste in all you do is thrilling. We feel refreshed and renewed whenever we visit. Writing in my journal, I describe returning to Bushy House after an exhausting NOTL day as "going home". That says it all. Thanks again for everything – good luck building the family. Dan + Ginny: DITTO DITTO DITTO DITTO DITTO
---
This is the closest to the ideal bed-and-breakfast that we have ever seen. We spent a peaceful night in the room, tried out the claw-footed tub, enjoyed the bountiful and delicious breakfast out of the basket while sitting on the patio (the garden is SO full of birds, butterflies, wildflowers.) Over a last drawn-out cup of coffee (with a last mouthful of yogurt parfait), we wondered when we could return – and how you do it all!! We hope to come back soon – and wish you the best with number two and his or her big sister Leah… Thanks, Sheryl + Norman
---
Thank you for such a delightful stay at Bushy House. It was the perfect conclusion to a day of cycling though vineyards and of course strolling through town. The wonderful breakfast on the patio will always remain a highlight. It has been a treat meeting you. Mary + Mike
---
2002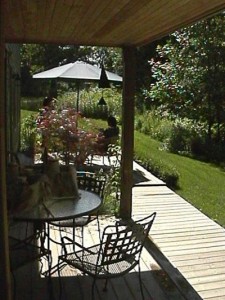 …And then there were 4!! Well done. Your gardens are more beautiful every year. We love the water additions. Great breakfast as usual. They alone are worth the drive! See you next year – same time Jim + Sue
---
The return of the "girls". Thank you once again for your warm welcome and delightful breakfast. Will you ever stop surprising us with new delicious recipes? Leah and Sam just enhance the atmosphere. See you next year! Anne + Margaret A. + Ginny + Lynn + Margaret S.
---
The pressure is on! Now I have to take cooking courses, continue with my gardening, go to the gym more often, juggle my kids' schedule AND THEN I'll be half the woman you are!! You make it look so easy & you are so relaxed looking. We loved spending our 20th wedding anniversary here at Bushy House. Thank you for the lovely bottle of bubbly that was left in the fridge. We found you on the internet, but we don't have to search any further. We will be back to share the relaxed splendour that you offer. Rob + Carolyn
---
2003
Our fourth visit to this lovely haven. We look forward to this each year; it's a treat to be with friends in your beautiful home. Thank you Jodie for making our stay so enjoyable. So until next time. Blessings to you and your family. Diana + Steve
---
We're back! There was no other place else that we would go to but here for our big "two-nights away from home"! Thank you for making our 10th anniversary just that little bit more special. Your B&B is by far the best and your breakfasts are something to look forward to for weeks! See you again for sure! Kathy + Derrick
---
2004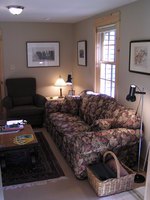 Once again we thoroughly enjoyed ourselves – everything was excellent & breakfast was fabulous – (we look forward to the breakfasts for weeks ) – we ate enough for weeks!! God bless you and your family and thanx so much. Heidi + Gisela + Ute
---
Jodie & Family: our first return visit to a B&B – We hope it won't be the last. Thank you for your hospitality – and yet another amazing breakfast. Enjoy your trip out to the west coast. John + Kathy
---
After staying at several bed & breakfasts, we have found the perfect one. We hope you remain in business so we can spend each of our anniversaries here. Marks for everything. P.S. See you next year! Mark + Linda
---
2005
David, Jodie & little ones,
What an awesome visit! We will return. Thank you for opening your lives to us. This has been one of our favourite B&B's thanks, God bless you all. Larry + Cindy
---
Thank you for this very special place. We have enjoyed the "rest" and the superb breakfasts!! Our suite was lovely (I love Gerbera daisies) with all the touches you add. We love Niagara-on-the-Lake. Now there is one more reason to come back. Thanks so much, Happy Holidays. Cathy + Harry
---
Once again we have enjoyed our visit immensely. Such a peaceful atmosphere and wonderful care. Hope to see you again. Gayle + June
---
This getaway was wonderful! It was so comfy & quiet! You do a wonderful job! Your breakfasts were beautiful! Jason loved your strawberry jam! The best he's ever had! Thanks again! Kate + Jason
---
Miss Jodie, thanks again for a most wonderful weekend getaway. Your hospitality and ambiance is "numero uno" in our books. Have a great vacation in SA and we'll see you as soon as possible. Sheila + Ron
---
2006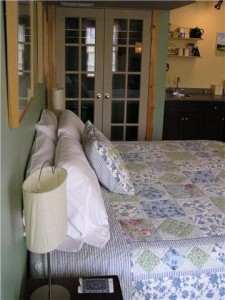 Jodie, David, Lea & Sam – What a wonderful time for our 7 yr anniversary! Thanks for including us too in your pizza nite – what great friends and family you have. Food, atmosphere & relaxation – what a great combination! See you in June/07! Deb + Mike
---
We appreciate very much your generous gift of sharing time in you home and enjoying the blessings of serenity. Sometimes our lives get so busy, we forget what it's like to relax and listen to the singing of the birds. Thank you for allowing us to do that.. and the added bonus of a pampering breakfast! Blessing to you all! Howard + Beulah
---
Bushy House remains our home away from home, 5 stars (that's the max, right?), our haven and refuge. Next time we'll stay longer, we hope. Fabulous, as always. Leaving love, hugs & a wish that you find the moments for quiet reflection that Bushy House provides to us. Dan + Ginny
---
How wonderful it was for us to find such a lovely place after we were told "there was no more rooms at the inns" on our arrival in Niagara-on-the-Lake for the first time. At the tourist information office (the Chamber of Commerce), we asked if there were any availabilities anywhere and they asked if we were interested in B&B's. Not being avid fans of B&B's we reluctantly accepted. To our surprise the welcome we got from you & the children was just great… we have 11 grandchildren and it reminded us of home! We were so pleased to be the first customers for Leah and Sam's fruit & lemonade stand. Mom's crabapple jelly was more than reasonable. Thank you thank you for your kind hospitality… the room, the garden, the privacy and best of all the breakfasts. We felt totally at home & more… we had the luxury of great service for 2 days! We'll be back to Niagara-on-the-Lake .. we loved the town, the restaurants you referred, the coleche ride, the boat ride and for sure when we do… we'll plan to stay at Bushy House! Best wishes for continued success! Joan + Gerry
---
As long as there is a Bushy House we'll come to Niagara-on-the-Lake. It doesn't get any better. Mark + Linda
---
2007
This was our first stay at Bushy House & we definitely plan to come back! It was a lovely, cozy environment & a wonderful breakfast. Chris m-m-m-ed his way through the entire meal. Thank you so much! Krista + Chris
---
Wow! And again I say WOW! What a grand home you have established here. For three anniversaries we have enjoyed your flowerbeds, birds, gourmet breakfasts and beds. The atmosphere at the Bushy House is a testament to God. Thank you for sharing with us. Blessings to you Jodie, David, Leah & Sam, plus pets. Don + Shari Lou
---
Thanks for the amazing time! We so needed a little getaway, and this was the perfect spot for us. The food rocks! The setting is peaceful & gorgeous, and we love your hospitality. Hope to see you again soon. Come up for the new & improved Rumbletum anytime, and stay balanced. Have a great summer Quinn + Heidi
---
First time at B&B and it was a great experience. Quiet & private; perfect outdoor breakfast on the patio. Thank you so much! John + Diane
---
5 Star Accommodation. Breakfasts were one of the highlights of our visit to NOTL. My wife has gotten way-too-many decorating ideas. We both wish you success in your B&B empire. Pat + Don
---
2008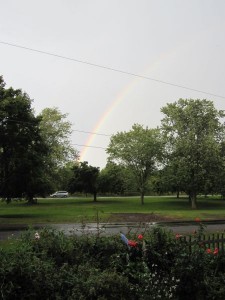 My Mom & I had a lovely stay at your place. What a beautiful home. We enjoyed the town too but at the end of the day couldn't wait to get back to "our B&B" – so cozy and peaceful. And I so appreciated the little luxuries, like tea before bed. We slept well. We ate like Queens. Thank you thank you! Joanna + Sue
---
Delicious breakfast, great strong coffee and welcoming hosts. Thank you – love the little little touches – fresh flowers … Rena + Elliott
---
10 years at Bushy House – Wow! Once we came that first year, we were hooked. The beautiful gardens the gourmet Breakfasts!!! The amazing & welcoming family!!! It's comforting to know that after the arduous trip from Ottawa, there is a friendly home waiting for us. Jim + Sue
---
2009
We found our way here via a gift certificate – and what a gift it's been to settle here for a couple of days. Thank you for your gracious hospitality & wonderful breakfasts. (I've enjoyed the art, artifacts & flowers, especially, and knowing it's the C.S. Lewis suite). Success in all your thoughtful endeavours! Dirk + Gerri
---
Such a lovely "Home away from home!" A beautiful setting – fabulous breakfasts – (Jodie, you are an amazing cook) everything to make us feel comfortable. Thank you. This is a B&B we will talk about and remember always. Bob + Betty, Rick + Chris
---
This is our 7th year year and I can't imagine staying anywhere else. Great weather, great breakfasts, wonderful hosts! We celebrated our 10th anniversary this year and hope to return for many more . Thanks for everything. Mark + Linda
---
Dear Jodie, once again it was wonderful! We want to hire you to decorate our place so have your people get back to our people about your rates (we won't wait 5 years to come back) John + Su
---
You have captured warmth, serenity, charm and tranquillity in your beautiful home. Food as it should be experienced. So… we've decided to stay. Thanks for all… Susan + Lynn + Lynn
---
Thank you so much! From the moment we pulled in, we knew this was going to be a great weekend. Gary & Lisa were right; this is the best place to stay in Niagara-on-the-Lake. Your breakfast was more than delicious. Adam and I can't wait to come back son. Lisa + Adam
---
Many thanks for the wonderful breakfast and hospitality – a great place & way to have marked our 25th anniversary and welcome 2010. Terry + Jennifer
---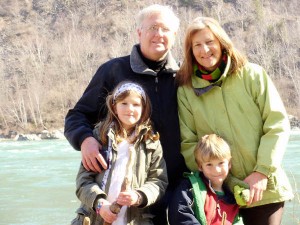 I drew these comments from our guest books over the years, and the end result of this exercise is that (a) I now have a swelled head from all of the compliments, (b) I wonder how am I ever going to live up to the expectations written in these pages (Yikes!) and (c) how wonderful it has been to get to spend time and even get to know some of you. There are friends here. I have a silly grin on my face thinking with great fondness, and even love, of the extraordinary people that have graced Bushy House. Really, how wonderful it has been for us, too. Thank you for these first 10 years, and here's to more of that!