Looking to book a weekend (or any time) at Bushy House?  Or maybe you just have a question …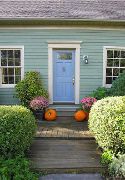 You can contact us using the form at the bottom of the page. If you prefer a more direct method, our phone number/address and email are just below:
Jodie Godwin & David Parker, Leah and Samuel 1601 Lakeshore Rd., RR3                                                             Niagara-on-the-Lake, Ontario, L0S 1J0                                 Phone: 905.468.0528                                                                    Email: bushyhouse@sympatico.ca
Who are we?
Jodie Godwin grew up in Manitoba and New Zealand, and then Alberta where she later trained as a visual artist, and now spends her time taking that creativity to several different places.  A busy mom to Leah and Samuel while running the bed & breakfast has sometimes been … well, busy.  She has so enjoyed getting to know and serve the many guests who have spent time at Bushy House.  When not in the midst of that, she can be found puttering away in the kitchen or the garden, or even spending time in her studio working with clay and other materials.  She is on the National Board of Young Life in Canada, and also among a local group of people who come alongside the many Jamaican farm workers who come to work in Niagara year after year.  Those friendships cross borders, with travels to Jamaica every couple of years to connect with workers' families. Skiing and sailing have also been loves, though she doesn't always get the opportunity to do much these days.  When the B&B slows during the winter months, Jodie volunteer teaches Art in a few local elementary schools, grades 1-8.  You can see some of that work on her website/blog:  Art Here and There.  When does she sit down?  Watching movies with or without the kids, and knitting.  Reading for her beloved book group.  Or late at night, on her computer.  Down time!
http://www.arthereandthere.com/
Husband, David Parker is an architect, specializing in (but not limited to) church design.  His work takes him to different parts of the province, and even different parts of Canada at times.  Even as a boy, he always wanted to design buildings, and he has not lost that love for for it.  Bushy House is one such project.  He loves his children intensely, and enjoys down time with them.  He and Jodie prepare the B&B breakfasts together, and he has been to make a bed or two along the way!  Relax mode means reading or going for walks, and listening to podcasts.  He has been to known to dabble in oil painting, but these days he is trying his hand at acrylics.  His favourite spot (other than Bushy) is renting a cottage in Ocean Park, Maine – a place his family has vacationed for generations. Currently, he is reading a lot of Wendell Berry – also a favourite of Jodie's.  The whole family happily attend St. Andrews Presbyterian Church in NOTL, where they have found a home amongst its members.
Leah is a very warm and thoughtful young teen who is immersed in the comings and goings of Bushy House.  She is a voracious reader, and has a great sense of humour that sees her through.  She is our chicken whisperer, helping out with the Bushy flock – she knows their names (and who is who) better than anyone.  She wants to be a large animal vet, and seems to have a special spot in her heart for cows and sheep.  She loves a good story, and happily joins in with her mother's art projects at the school.
Samuel is only a little younger than Leah, and the two get along quite well – in part the result of our location and a Mom who works at home.  Samuel likes to write, especially lists and other factual data – though he sometimes goes off on writing tangental stories.  He enjoys history, and can be quite earnest in his recounting of all the things he has learned.  He is  passionate about MindCraft, and even wrote a paper for school arguing that there should be no screen limitations for practisers of that sport.  His mother was not completely convinced, but it was a worthy effort.  He is very affectionate to those he loves, and fiercely loyal.  Going for bike rides with his Dad is a favourite, which in NOTL often means stopping to visit friends.
Check us out on Facebook, too.  You'll get a 10% discount when you LIKE us on FB.  Cheers!